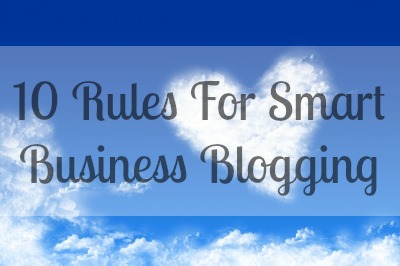 There are some sets of rules that everyone really should follow. Like turning your cell phone ringer off in a movie theater or bringing a gift to a wedding reception. This isn't one of those sets of rules. In fact, I'm going to give you this bonus rule right out of the gate:
Blogging isn't a science. There are plenty of things proven to work and bring blogging success to some, but I find that most successful bloggers have something in common: they try things out, test them for success, and follow what works best for them.
Possibly one of the worst things you can do for your blog is follow every "rule" and "guide" to a T. You'll end up with something unoriginal and, because of that, mostly a complete fail. Don't be afraid to take your own path and go with your gut every now and then. The best blogs are usually doing something different.
Then why am I writing a post about 10 rules for smart business blogging? Because, while you need to find what works best for you, it helps to know the rules before you break them.
If you started blogging for your business without doing any research or learning any guidelines, it would be hard to figure out where to start or what to change.
So here is my list of 10 Rules for Smart Business Blogging that can help you figure out what to do, and what to do differently, on your own blog.
---
Rule #1 – Write for your prospects, not your peers
This can get a little tricky if you're not looking out for it. A lot of business owners eagerly start out on their blogging project thinking "I'll just write what I know about!" This is a good idea, but it can also be totally detrimental to your blog if not used in the right context.
Yes, you should probably be writing about what you know. But are you positioning it for your prospects, or are you writing for your peers?
Here's an example to help illustrate what I mean:
Sally is lawyer, and she's always been known for her strategic and successful argumentative skills in the court room. She wants to write a blog post about this skill. She comes up with two ideas:
Post #1: 8 Ways to Use the Technique of Argument to Succeed in the Court Room
Post #2: How to Find & Hire a Lawyer Who Knows How To Win Your Case
Alright, so this is pretty basic (and by the way, I know nothing about lawyering) but can you tell which article would be enjoyed by Sally's prospects, and which one would only interest other lawyers?
The first one, of course, would interest Sally's peers. If you were going to hire a lawyer, would you really care about brushing up on your own lawyering skills? Probably not.
If I was looking for a lawyer, the second article would tell me exactly how to find one with all the skills I need to have a successful case.
So when you're planning your content, always look at it from the perspective of your readers. Ask: is this something they really want to learn about? If your peers are more likely to value it than your prospects, spin the article in a new direction.
---
Rule #2 – Have a schedule for publishing
Here's the good news: you don't need to publish a blog post every hour…every day, or even every week to be successful.
I'm not going to get into the details about how often you need to publish content on your blog (if you want a cool take on blogging frequency, read this article).  Because, honestly, if you are publishing truly knock-out stuff, and being consistent with how often you publish, you're probably going to do fine.  I wouldn't recommend only publishing four times a year or anything like that (I think once a week really is the sweet-spot for most people blogging for business purposes), but finding your own groove is totally acceptable.
Consistency, however, in pretty much non-negotiable.
There are a few notable bloggers who pop up on the internet at a completely random pace, and do remarkably well for themselves, but this strategy is a train-wreck for most of us.
Here's why consistency is important:
Your readers will be able to anticipate your next great work of literature
If there are inconsistent gaps in your blog posts, people may assume you've stopped blogging and leave
Returning to a blog expecting to find something new and exciting, and instead being greeted by the same post you read last time is a major disappointment
And, most importantly (in my opinion):
If you don't commit to a blogging schedule, you're much more likely to not publish anything at all.
Here's some advice on how to stay consistent with your blogging efforts.
Rule #3 – Frequent other blogs
Here's my number one strategy for becoming a great blogger: learn by example (or, read great blogs).
Taking in great content can help you produce great content. Examining blogs that are really popular can show you what goes over well with people. Learning from the success of others can boost your own success.
There's is just no reason to reinvent the wheel when it comes to blogging (or…most things for that matter). One of the best exercises for new bloggers is hanging out at the blogs that are doing well. Take note of things like:
The type of content they are publishing
The way they write headlines
The topics that get the most attention
The design elements they use
How they encourage interaction
How they use the blog to build their business (whatever it may be)
The questions their readers are asking, and the praise they are awarding
Anything that you notice isn't working well, and how you might do it better
Warning: this can backfire. I think learning from other bloggers is a great idea, but some people take it too far. No one likes a copy cat, and if your blog turns out like a awkward teenager trying to look cool by imitating her favorite movie star, you're going to lose out. Be careful to learn things from others, but always implement them with your own style.
---
Rule #4 – Be a Guest on Other Blogs
Guest blogging has been one the most powerful ways I've found for reaching new audiences and gaining attention for my blog and business. It's one the best ways to give your business blog the foundation it needs to grow.
Here are some benefits you can get from guest blogging:
Exposure to entirely new & bigger audiences
Build relationships with other bloggers
Gain traffic
Grow your reputation as an authority in your topic
SEO power (from the quality, inbound links)
Read this great article for more tips on guest blogging.
---
Rule #5 – Learn (at least) the basics of copywriting
In my opinion, how you write is right up there in importance to what you write. Here's why: if you write a blog post with a dozen absolutely amazing tips, but I need a double shot of espresso to stay awake just to read about them, then your blog isn't going to do well. There are tons of people writing great content. If you can't keep your readers attention they will go somewhere less boring to get their information.
It might be harsh, but it's very true.
You need to get a handle on the basics of copywriting.  Learn how to write great headlines that people want to click.  Figure out how to craft sentences and paragraphs in a conversational, easy-to-read way.  Get to know the rules for writing compelling calls-to-action.  It will pay off, I promise.
---
Rule #6 – Always interact with your readers
Don't ignore your readers. Ever.
I've been there, and I know that it's easy to get caught up in writing posts and scheduling the editorial calendar and brainstorming ideas. You can get so caught up in the details that you forget why you're even blogging in the first place: for your readers.
There are several elements to a successful blog, and interacting with your audience is one of them.
Ask your readers questions. Solicit their opinions. Ask for feedback. And always, always reply to comments, questions, and complaints.
---
Rule #7 – Your blog is not an advertisement
Don't think of your blog as a direct sales tool. Blogs are a great way to increase business, but in a more long-term way. How? By providing value and building trust with your prospects. Content that provides useful stuff is going to accomplish that. Not advertisements and pushy sales messages.
Some bloggers will promote a product or service on their blog from time to time. Other bloggers never give a sales pitch via their blog. That's a personal choice — but regardless, useful content should far outweigh any sales content (by at least 90%, if you were to ask me).
---
Rule #8 – Use SEO carefully
Some search engine optimization is really useful, like researching keywords that your audience is actually using to search for information, or writing descriptive headlines.
But then there's shady stuff, like keyword stuffing, duplicate content, and invisible text.
Check out this article on SEO worst practices to see what you should avoid, and then read this article on some of the more useful (and totally ethical) techniques.
Rule #9 – Design matters (a lot)
Great content is crucial, and I think the quality of what you publish is the most important thing to your blogging success. But the truth is, design matters a lot, too. Visitors will judge your blog based on how it looks.
You want to present a clean, professional design that matches your online branding. Make sure your blog is free of clutter and distracting elements that don't reinforce your primary goals. Use quality images, easy-to-read fonts, and reader-friendly formatting.
If you're using WordPress, you can achieve a great blog design by purchasing a premium theme.  Or, you could hire a designer to create your blog design for you.  A third option, if you're up for the challenge, is handling everything yourself.  Here's a great article on ThinkTraffic.com with tons of great tips for non-designers who want to create a great looking WordPress blog & website.
---
Rule #10 – Use your blog to build your list
It's surprising how many bloggers work extremely hard to publish remarkable content and interact with their readers, but never encourage fans to get on their mailing list.
Email marketing is an indispensable online business tool, so I'm assuming you've already got the basics of list building in place. Now's the time to use your blog strategically to grow that list.
Some of my favorite ways to turn blog readers into email subscribers are:
Placing an opt-in box at the bottom of every blog post with a compelling reason to sign up
Placing an opt-in call to action right in my blog content.  If it relates to what I'm talking about, I'll throw in a link to my email opt-in and tell readers what they'll get out of it
Placing an opt-in box in the blog side bar
Using a great plugin called HelloBar to direct visitors to my email opt-in page
---
Share your experience: use the comments below to let us in on your rules for smart business blogging!