This is the part of the post where I'm supposed to reassure you're that you're not alone when it comes to desperately wishing more people would read and appreciate your fabulous blog posts.
A while it is true that you are in good company as a blog-traffic-crazed business owner, I'm going to skip over the commiserating portion of this post and get right to the good stuff.
Because that's what you came for, right?
There are a LOT of of traffic generation hints and tricks out there and we've all heard the basics: share your posts on social media, ask your readers to share your posts, on social media, email your blog posts to your list, etc. But today we're going to talk about a few new strategies that can have a huge impact on your overall blog exposure. These are things I've been implementing myself and have seen great results from, so I can personally vouch for their effectiveness. Ready? Let's get started.
#1 – Use tweetable quotes
Twitter is a powerhouse for content sharing. It's massively useful for driving traffic to your blog and website – if you can get your content shared on the platform. A Twitter share button accompanying each of your posts is a good start – but here's something even more effective: embed a tweet-able snippet of your content directly in your post.
Embedding tweet-able snippets into your blog posts is a great way to snag more traffic. (Tweet this now! [go ahead – try it for research's sake])
This tactic makes it fun and super easy for your readers to share some of the best nuggets of wisdom from your posts with their Twitter audience.
#2 – Mention social influencers
Quoting other people helps you back up your point and make your post more credible, but it can also help you drive a lot of traffic to your blog. Why struggle to get more people to notice your content when people with HUGE audiences are perfectly willing to share it for you?
Brian Dean of @Backlinko put it like this:
"Instead of sharing your content on social media (and hoping an influencer notices it), you put your content directly in front of the movers and shakers in your niche."
So how do you put this to work for your own blog? First, you'll need to do a little digging and find blog posts, tweets, or other social updates addressing the same (or similar topic) as your blog post. You're looking to find stuff written by influencers, or people with large social audiences. Once you find a snippet that is authored by someone influential AND that backs up the point you're trying to make with your blog post, simply paste it into your content. Of course, make sure to add obvious attribution (including a link to that influencer's social profile or website).
The final step is letting that person know you loved their ideas so much, you featured them in your blog post. Send them a tweet or an email giving them a heads up, and include a link to your post. If they like what you wrote and think it will benefit their audience, they are likely to share it. Which equals a ton of fresh exposure for you.
#3 – Get on board with Google Authorship
Did you know you can get your Google+ profile linked directly to all the content you publish on the web? If you've noticed those little author photos next to some of the search results on Google, then you know what I'm talking about: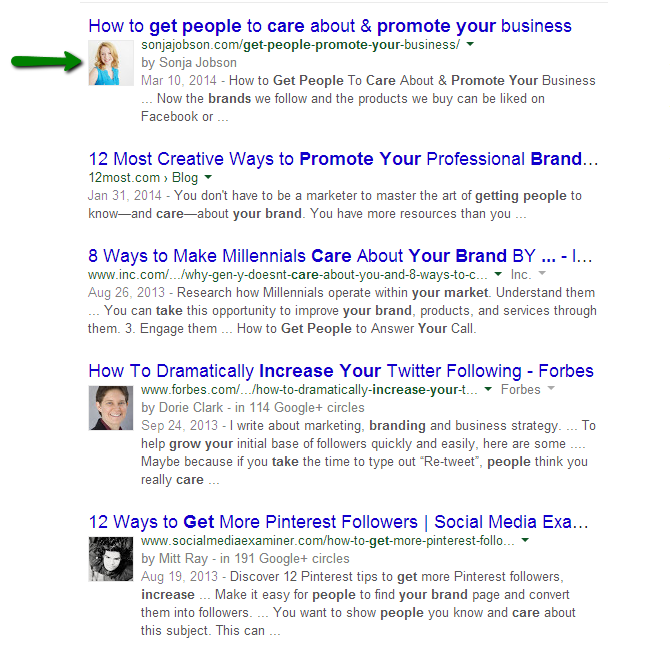 Glen Long from BoostBlogTraffic.com laid out the traffic-boosting benefits of claiming your Google Authorship like this:
1- You get higher click through rates due to the "rich snippets" Google displays next to your search result. Things like your photo, a link to your Google+ profile, and the amount of people in your Google+ circles helps you stand out.
2 – You can get more traffic to your other content because Google displays multiple links to your Google+ profile, and on your Google+ profile they can see your latest updates and links to your other recent blog posts.
3- You'll have a shot a much better search rankings when, as speculated, Google starts using Authorship to influence search results.
If you want to learn absolutely everything you need to know about Google Authorship, you should check out the rest of Glen's advice in his Complete Guide to Google Authorship.
Let's hear your ideas
Do you have an effective and little-used method for getting blog posts circulating around the web and pulling traffic back to your site? We'd love to hear about it in the comments below!
If you found this post helpful, you should seriously consider grabbing your spot on our Insider Emails list. We share all sorts of helpful marketing advice in weekly, bite-sized nuggets. Plus, it's free (a free way to improve your business? How can you say no?).
And as always, if you liked this post – be sure to share it on your favorite social network (handy buttons provided on your left).